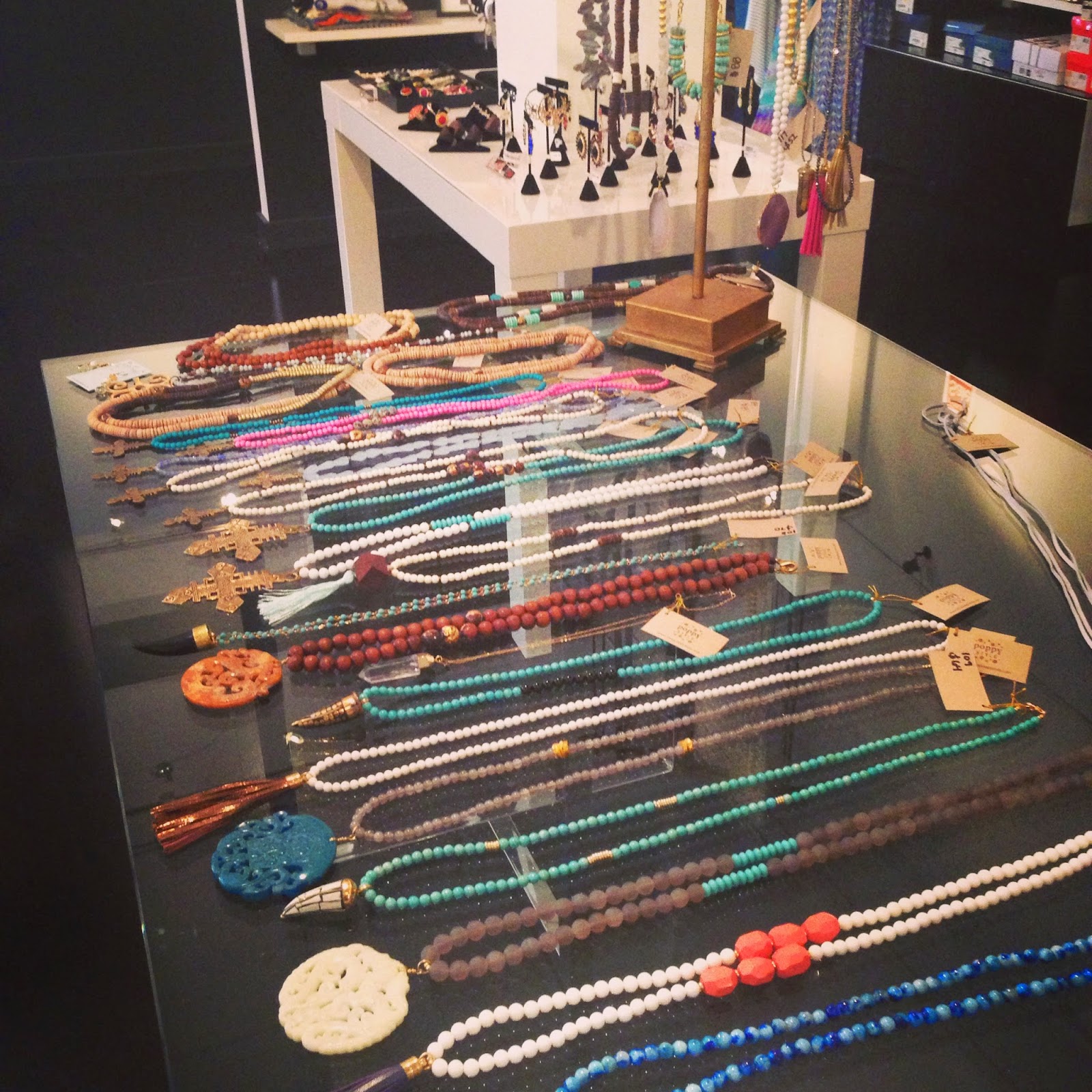 My sister Madeline, owner of Poppy Style jewelry, asked me to help with an upcoming trunk show at a cute and stylish local boutique. I was beyond excited to help out! I knew that I wanted to put together a delicious assortment of treats and beverages. First of all, I decided that a Mimosa bar was a must. Who doesn't love a mimosa while shopping for fabulous jewelry and clothes? So along with traditional Orange Juice, I had Peach Juice and I made Watermelon Lime Juice. I also put raspberries, blackberries and sliced strawberries on the bar to be add to each mimosa. It was a nice touch that all of the customers enjoyed.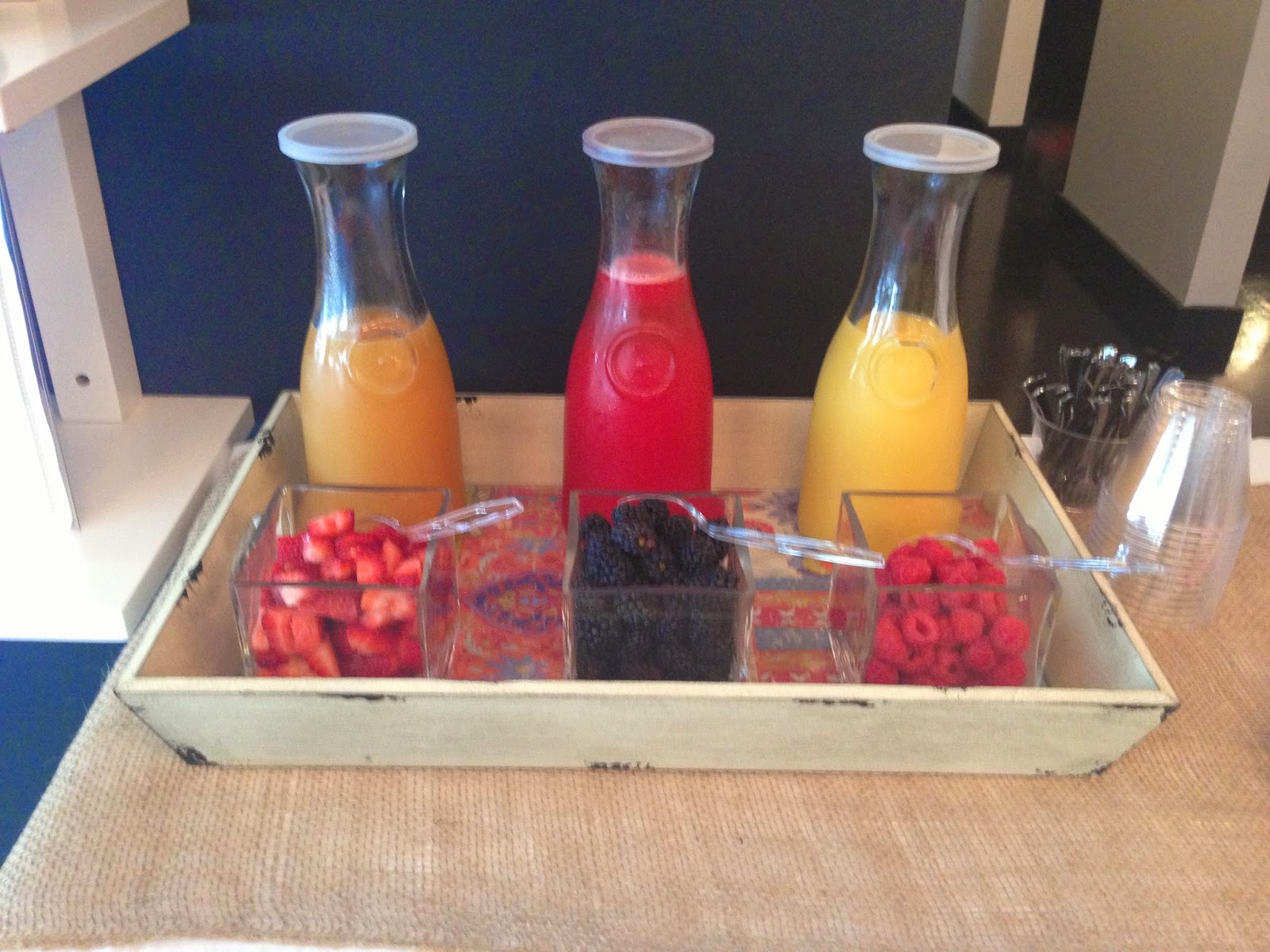 Watermelon Lime Juice
5 cups seedless watermelon, cut into cubes
2 tbsp of agave
Juice of 2 limes
Blend all ingredients in blender. Pour through a mesh strainer to remove any small seeds of pieces. Chill in refrigerator until ready to serve.

For the mimosas, fill glass 1/4-1/2 way with juice then add the champagne of sparkling wine of your choice!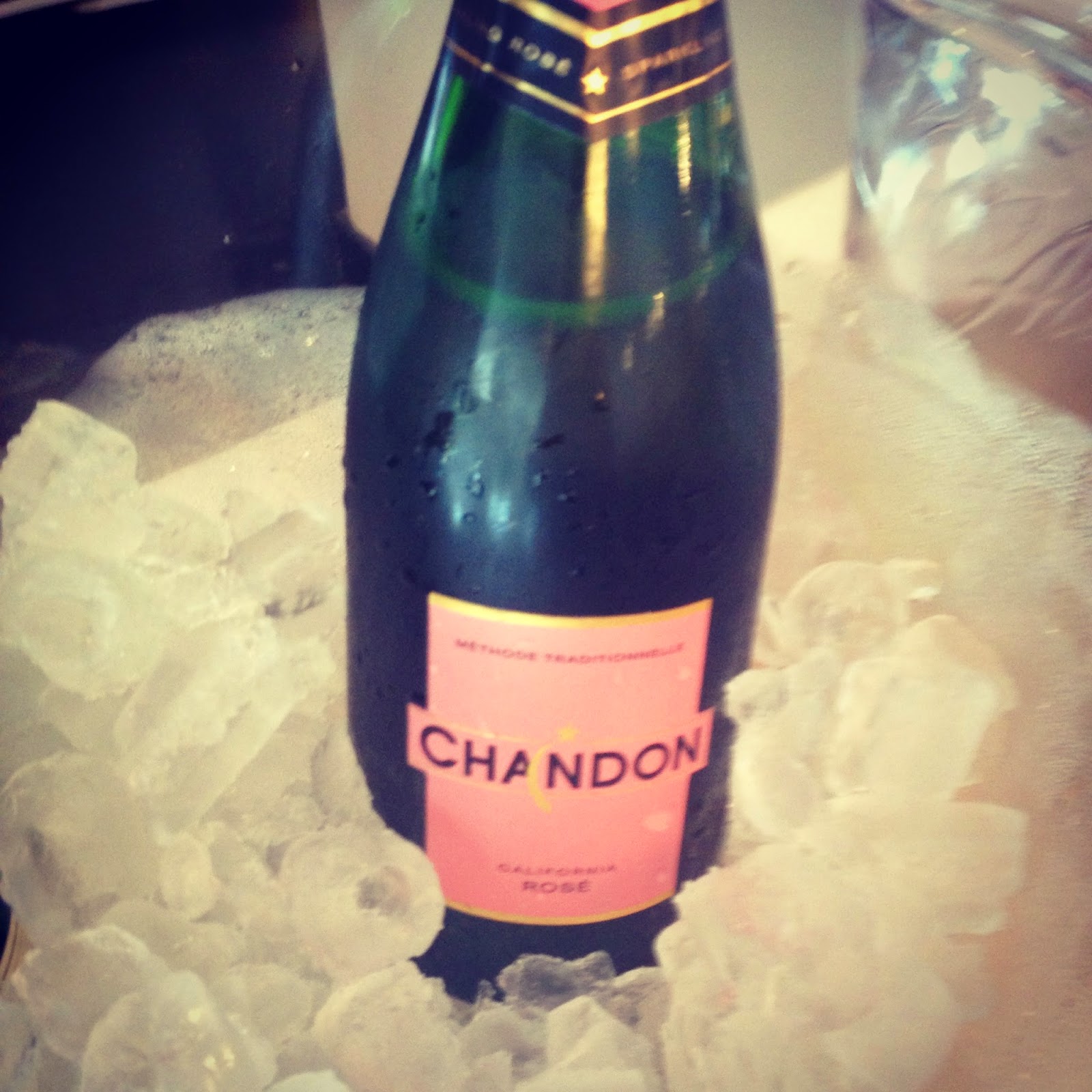 I knew whatever I made, had to be small and bite-sized so that people could enjoy nibbling while they shopped. In additional to the drinks, I also made roasted chickpeas, antipasto skewers, mini lemon tarts and cookies 'n' cream cupcakes.

Roasted Chickpeas

3 cans Chickpeas, drained, rinsed and dried on paper towel
2 tbsp olive oil
3/4 tsp truffle salt

Preheat oven to 400. On a baking sheet covered in foil toss the chickpeas with oil. Arrange the chickpeas in a single layer on the baking sheet. Sprinkle truffle salt over the chickpeas and bake for 40-45 minutes or until lightly brown and crispy.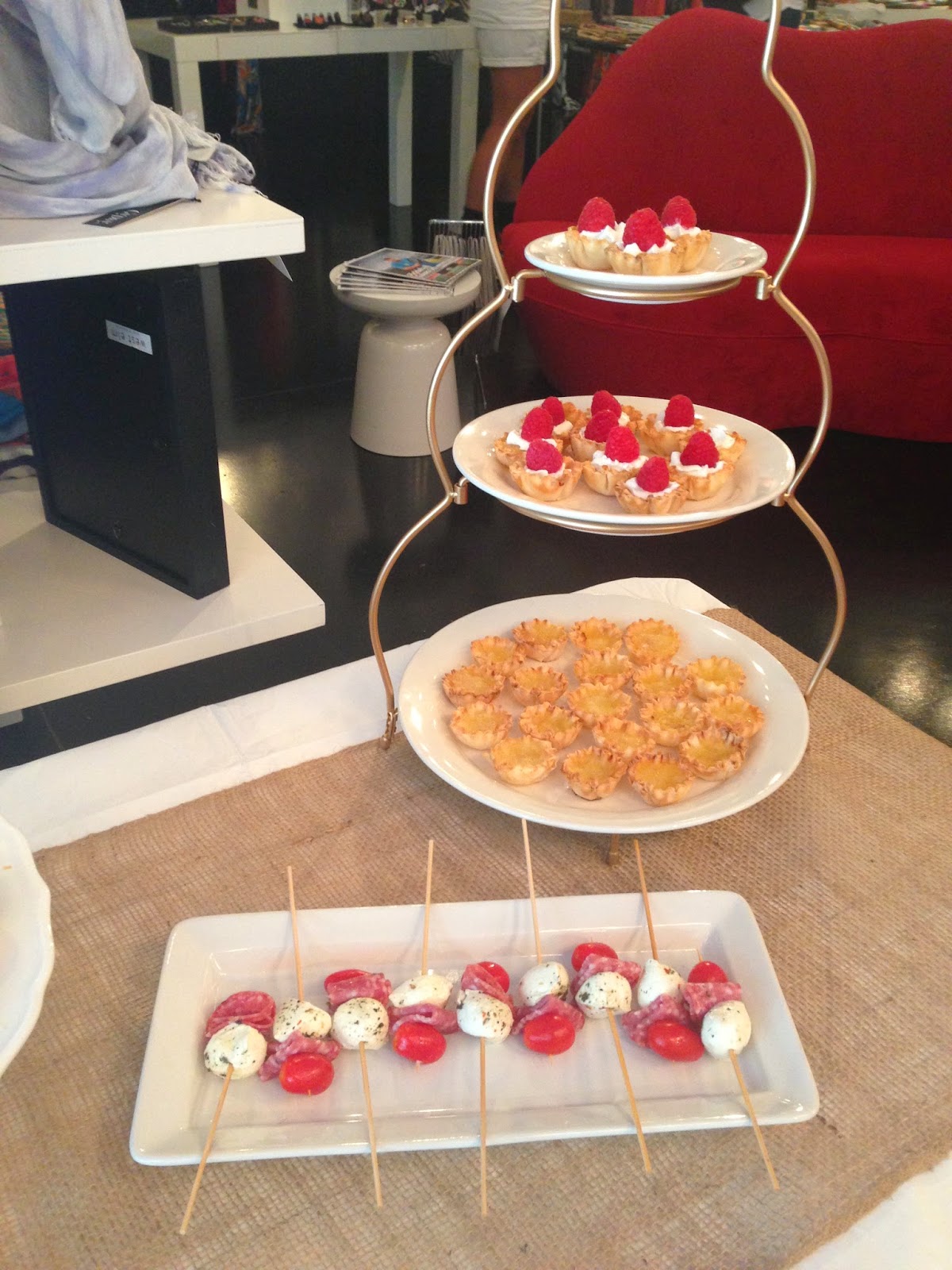 Antipasto Skewers
Small wooden skewers
Grape Tomatoes
Salami
Marinated Mozzarella Balls
Thread mozzarella, then salami folded into a triangle and then tomato leaving room to hold the skewer. Sprinkle with freshly ground pepper. Drizzle with olive oil and white balsamic vinegar.

Mini Lemon Tarts (Makes about 100 mini tarts)
7-8 boxes of mini phyllo cups (15 per box)
5 eggs
2 cups sugar
1 stick of butter, melted and cooled
1 tbsp flour
zest of 3 lemons
3/4 cup fresh squeezed lemon juice
Preheat oven to 350. Put mini phyllo cups in mini muffin tins. Set aside. Blend eggs, sugar, flour, lemon zest and juice with mixer until combined. Fill each phyllo cup with lemon filling about 3/4 of the way full (I used a tablespoon-size measuring spoon). Bake for about 12-18 minutes or until the filling and crust is very light brown and no longer jiggling. Let cool completely and garnish with a bit of whipped cream and a raspberry.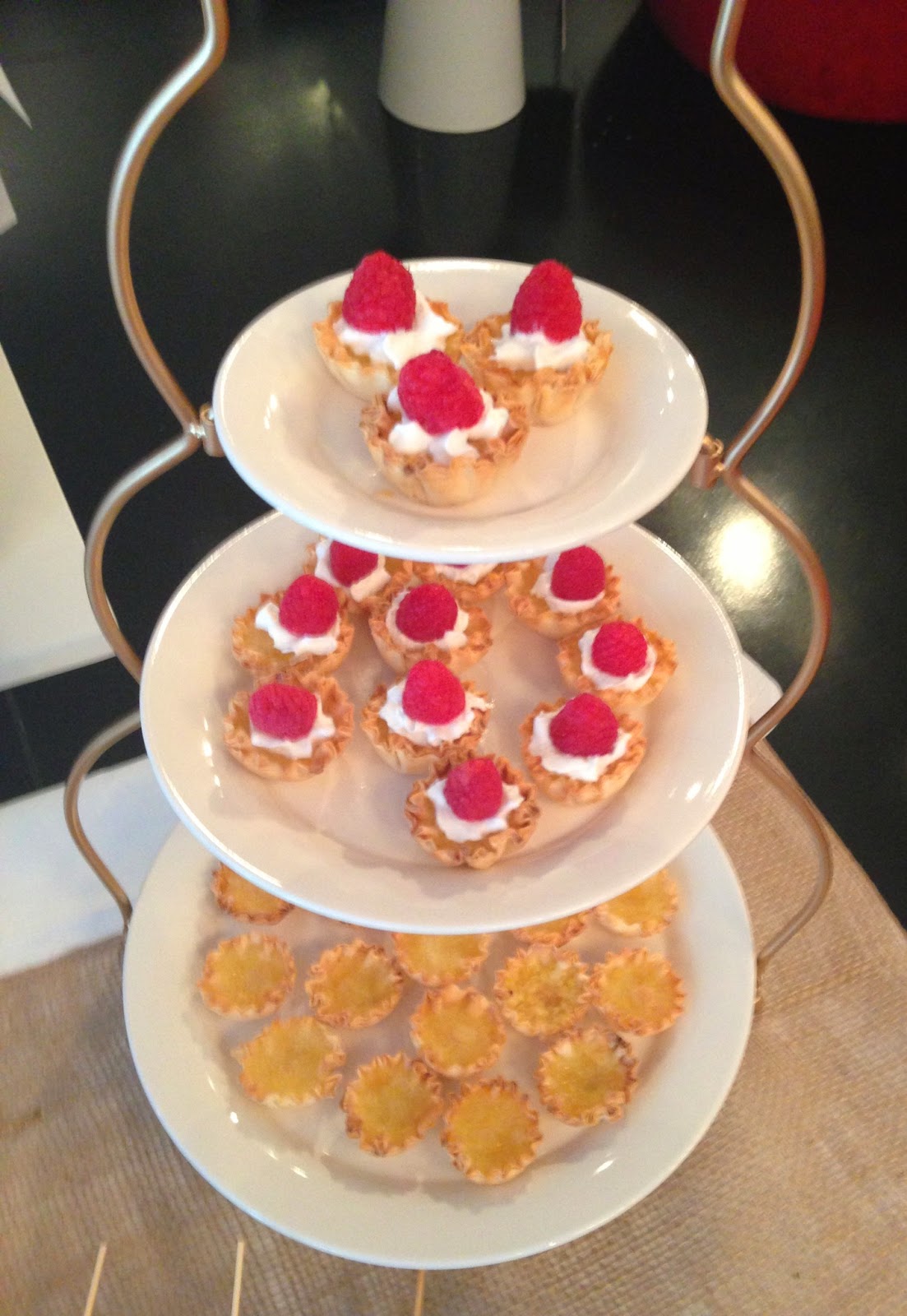 Mini Cookies 'N' Cream Cupcakes (makes 48 mini cupcakes)
2 1/4 cups all purpose flour
4 large eggs, at room temperature
1 tablespoon pure vanilla extract
8 tbsp unsalted butter, melted
1 cup milk at room temperature
8 Oreo cookies, roughly chopped
Pre-heat oven to 350 degrees. Line mini cupcake pans with cupcake liners. Set aside. In a medium bowl, whisk together flour, cornstarch, baking powder and salt. Set aside. In the large bowl of an electric mixer, beat the sugar, eggs and vanilla on high speed for about 3 minutes or until mixture is well combined and thick. Add butter and oil and beat on high until well combined, scrape sides of the bowl with a spatula and mix for another minute. Reduce the speed to low and add 1/3 of the dry ingredients and then 1/2 milk; add another 1/3 of dry ingredients and remaining milk; add remaining dry ingredients. Use a spatula to incorporate any dry ingredients that have are not fully combined; distribute batter evenly among cupcake cups with a ladle or ice cream scoop. Bake in center of oven for 12-16 minutes or until a toothpick comes out clean. Allow cupcakes to cool for several minutes and then remove from tin and place on cooling rack; set aside and prepare buttercream.
Cookies 'N' Cream Buttercream-
1 1/2 cup butter, softened
8 oz light cream cheese, softened
4 cups powdered sugar
2 tsp vanilla extract
6 Oreos, finely ground

Beat butter and cream cheese in the bowl of an electric mixer with the paddle attachment on high speed for several minutes until butter is light and creamy. Add 1 cup of powdered sugar and mix on low speed until combined; add remaining powdered sugar and vanilla and increase speed of mixer to high and beat until frosting is light and fluffy. Add Oreo crumbs and mix on medium until evenly distributed. Pipe onto cooled cupcakes.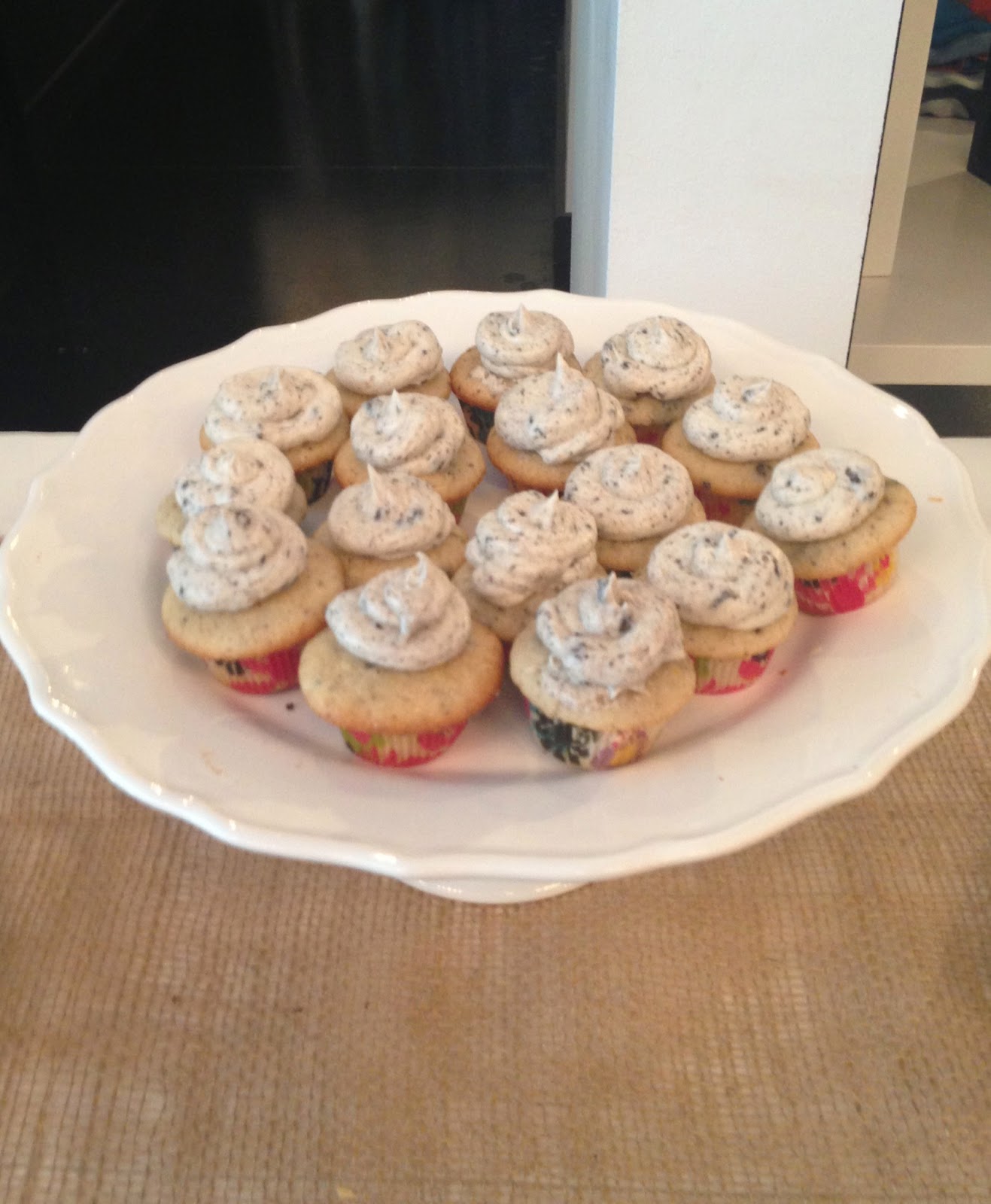 What are your favorite go-to party foods?
XOXO,
Josephine