Grilled Cheese and Tomato Soup is the epitome of the perfect fall meal. I have rarely met a tomato soup that I didn't like… or a grilled cheese for that matter! It's delicious and hearty and the grilled cheese croutons are absolutely scrumptious! Everyone is my house likes this but the kids prefer dipping the grilled cheese themselves so I don't cut it into croutons for them. Fontina is the perfect cheese to use because it melts beautifully and has such good flavor. It makes a lot- so the five of us can eat it at least twice and I usually give some to my dad also.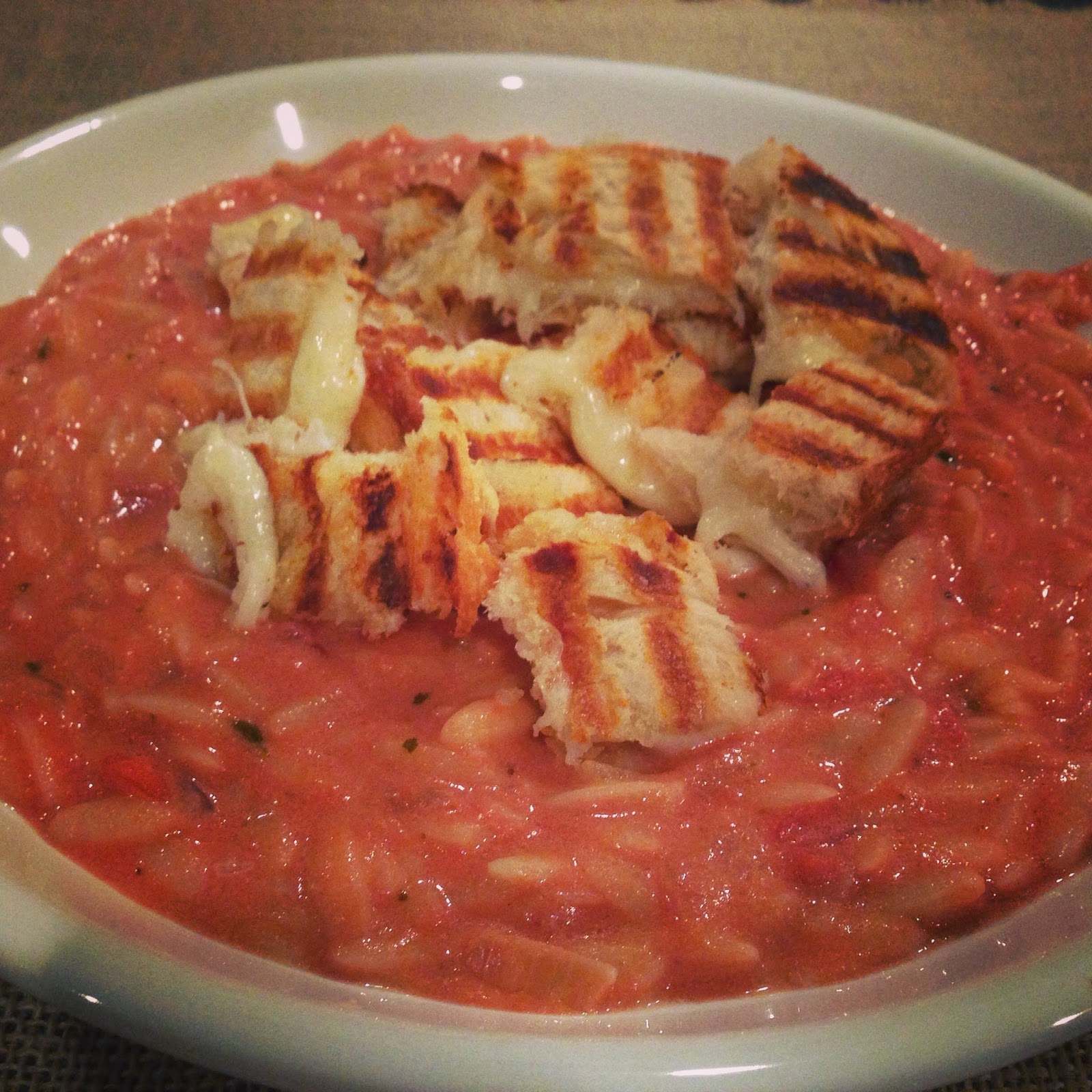 Tomato Soup with Orzo
3 tbsp olive oil
4 cups yellow onion, chopped
4 cloves of garlic, minced
2 large cans San Marzano tomatoes, crushed
8 cups of chicken stock
1/2 cup half and half
1/2 cup heavy cream
1 cup of orzo
2 tbsp dried oregano
Salt and pepper, to taste
In large pot heat olive oil over medium heat. Add onions and sauté until onions are soft and translucent. Add garlic and sauté from another minute. Add tomatoes, chicken stock, oregano, salt and pepper, stirring well. Cook for 15- 20 minutes, stirring occasionally. While that is simmering, cup orzo according to package directions. Add drained orzo half & half and cream to soup. Stir and cook for 5-10 more minutes.
Grilled Cheese Croutons
Good quality bread of choice
Shredded Fontina cheese*
Shredded Gruyere cheese*
Pile shredded cheese on one sliced of bread. Place other slice of bread on top. Grilled on panini press for 1-2 minutes or until cheese has melted and bread is light brown. Remove and let cool for 3-4 minutes. Cut into squares the size of croutons. Place on top of soup and serve!
* I didn't put exact portions of cheese because it completely depends on how big your bread is. I usually use 1 part Gruyere to 2 parts Fontina for reference.
XOXO,
Josephine