This lasagna is the perfect fall meal. It's hearty, delicious and slightly sweet. Butternut squash and sage are one of my favorite parings. I really enjoyed it. Allen liked it too but had a bit of trouble getting used to it not being a more traditional tomato-based lasagna.
Roasted Garlic
3 heads of garlic, tops removed
olive oil
Preheat oven to 400. Place each garlic clove on its own piece of foil. Drizzle olive oil over garlic and fold foil tightly around each clove of garlic. Place on a foil-lined baking sheet. Bake for 40-45 minutes. Squeeze garlic out of the head into food processor.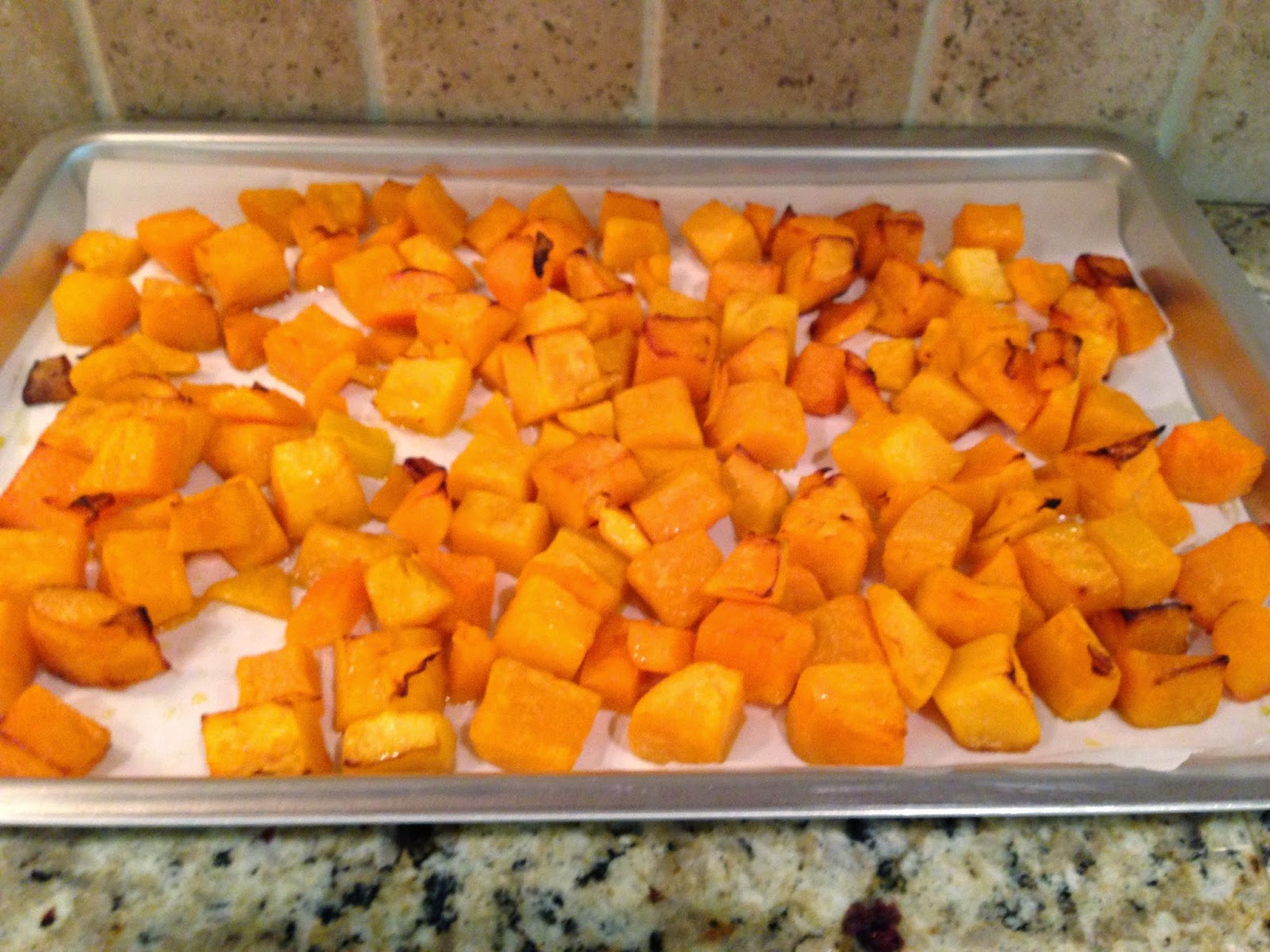 Butternut Squash Sauce
3 packages cubed butternut squash
2 tbsp olive oil
1 tbsp salt
1 tsp pepper
1 cup chicken broth
2 cups half & half
1/2 cup mascarpone cheese
1/2 parmesan cheese, grated
1 tbsp Italian seasonings, dried
1 tbsp fresh sage, chopped
1/2 tsp ground nutmeg
In bowl toss squash with olive oil, salt and pepper. Pour on parchment paper-lined baking sheet. Bake for 30-35 minutes. Put in food processor with roasted garlic. Puree until smooth.
In a medium-sized pot put butternut squash, half & half and chicken broth and heat stirring constantly. Add mascarpone and parmesan and stir and completely combined. Add salt, pepper and Italian seasonings and cook for 1-2 minutes. Remove from heat and stir in sage.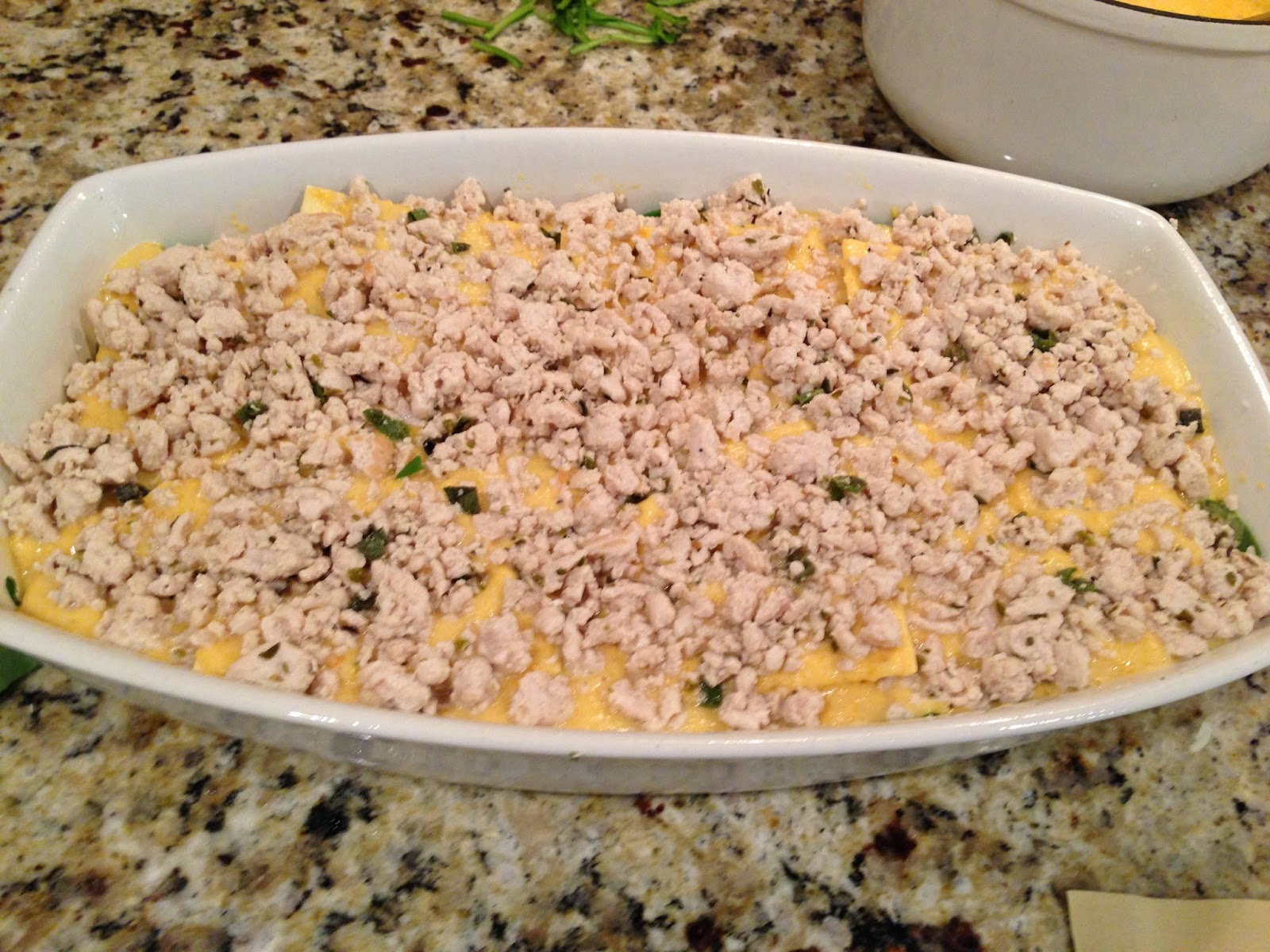 Turkey
1 tbsp olive oil
1 pound ground white turkey meat
1 tsp Italian seasonings
1 tbsp fresh sage, chopped
Heat olive oil in pan. Brown crumbled turkey in olive oil until no longer pink. Add seasonings and sage.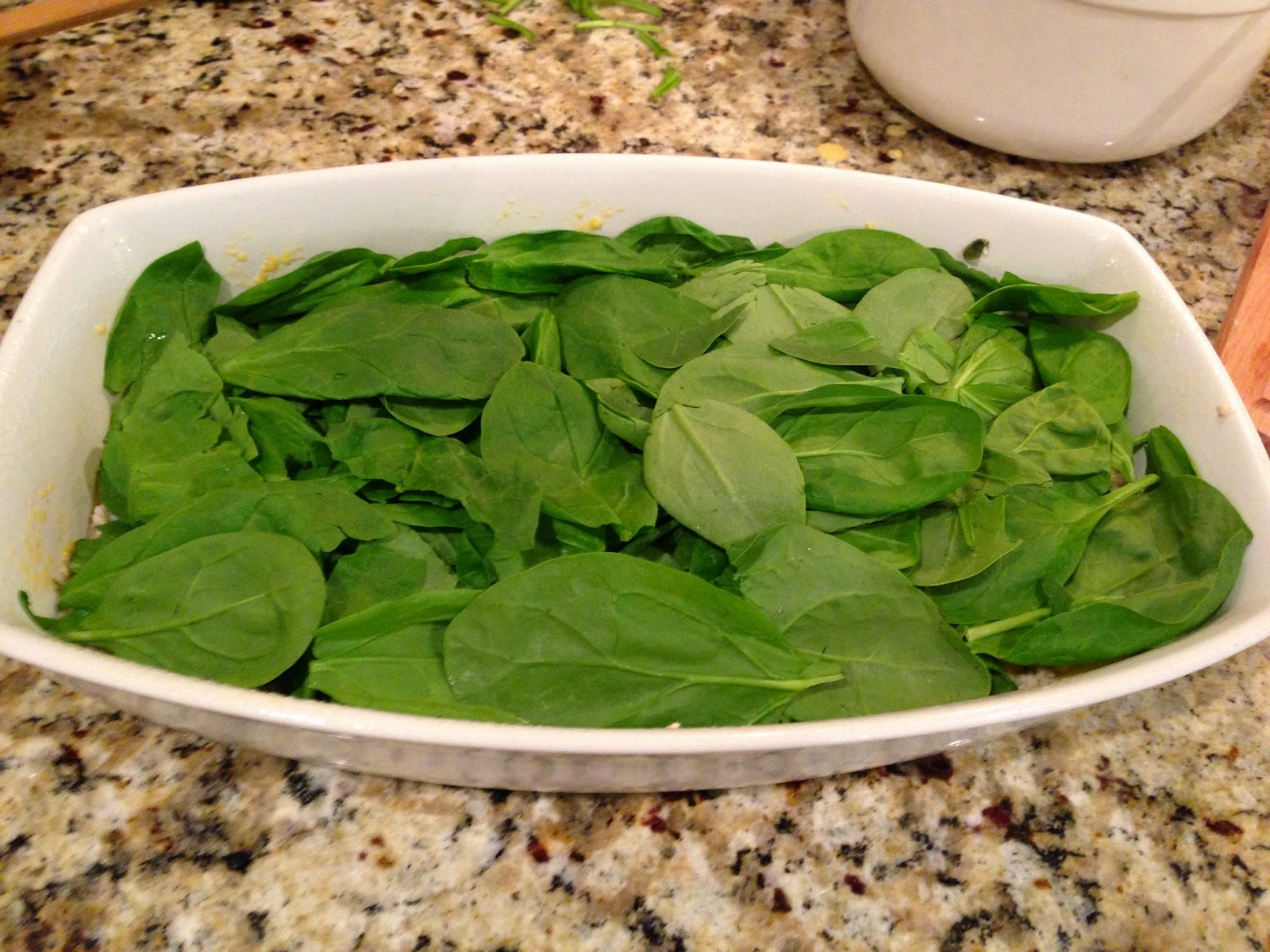 12 No-Boil Lasagna Noodles
4 cups baby Spinach
2 cups fresh Mozzarella cheese, shredded
2 cups Fontina cheese, shredded
In a greased 9×13 pan, pour 1 cup of sauce in bottom of pan. Then layer 4 lasagna noodles over that. Then pour another 2 cups of sauce over the noodles. Add 1/2 of the cooked, ground turkey. Put 2 cups of the baby spinach over the turkey then drizzle olive oil over the leaves. Sprinkle over 1 cup of cheese (part Fontina part Mozzarella). Add 4 lasagna noodles, followed by another 2 cups of sauce and then the other half of the ground turkey. Put the last 2 cups of the baby spinach topped with a drizzle of olive oil. Sprinkle over another cup of the cheeses. Then top with the last 4 lasagna noodles; then the remaining sauce. Then then last 2 cups of cheese goes on top. Bake at 350 for 30-40 minutes or until bubbly. Top with more fresh chopped sage.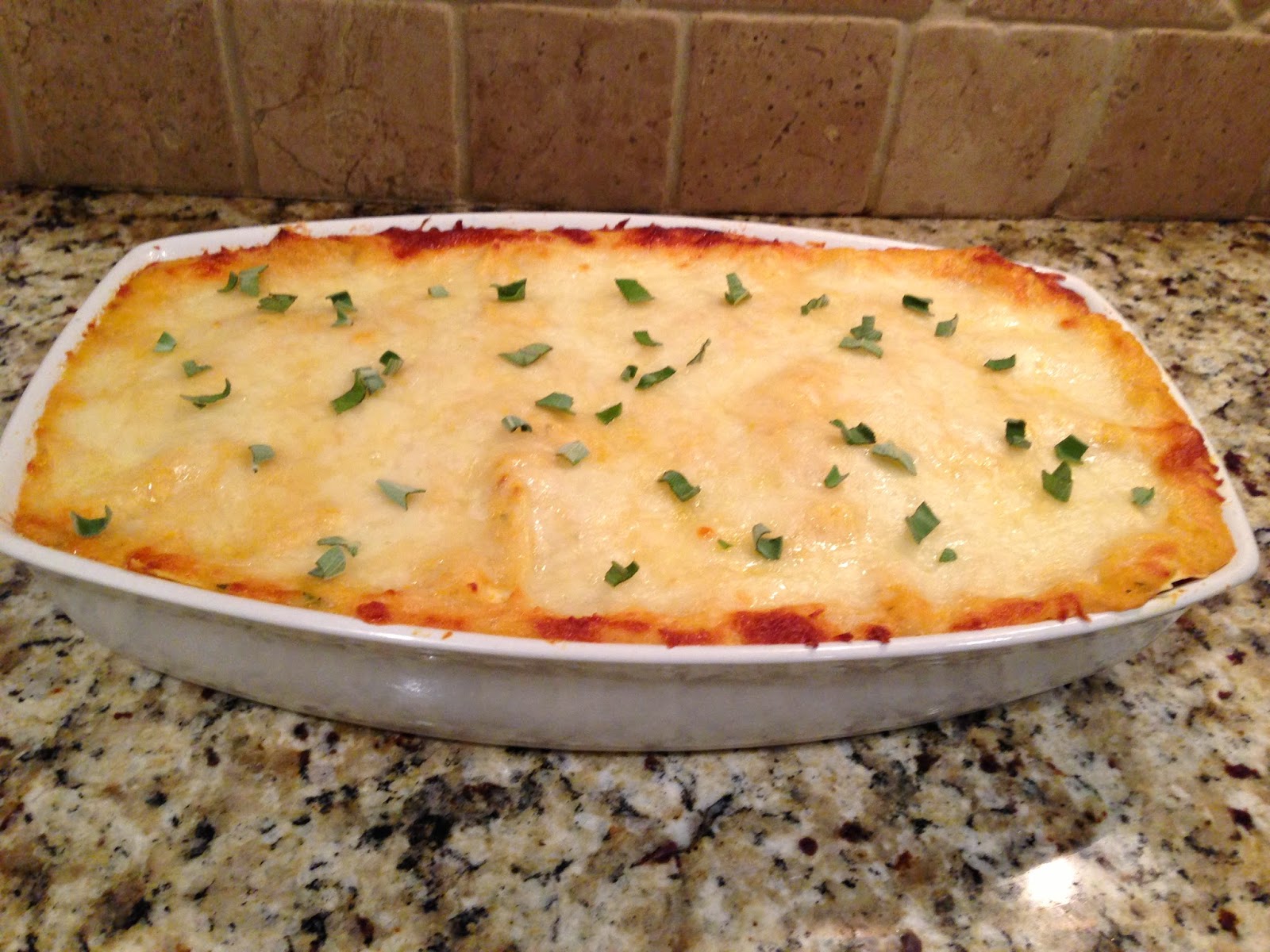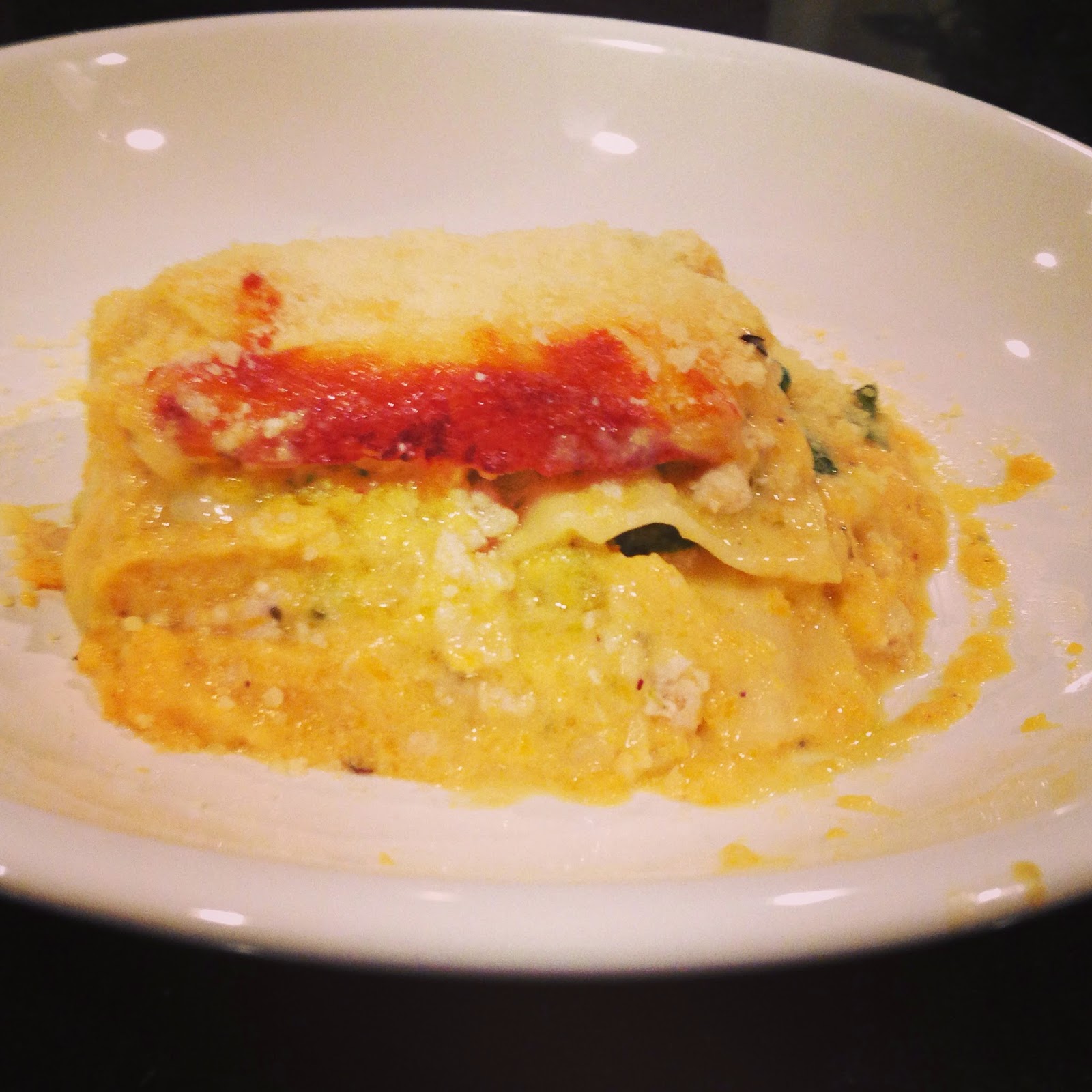 Enjoy!
Josephine