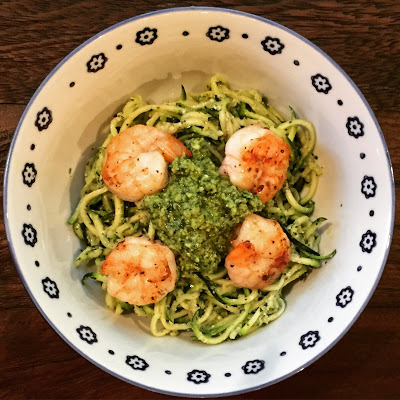 Allen was a little apprehensive when I told him what we were having for dinner. He ended up loving it and so did I! It is very light while also being quite filling. I have always loved pesto on pasta but this is now go my go-to treat. The extra pesto keeps for a couple weeks in the fridge.
Pesto
1 garlic cloves, minced
1/2 sliced or slivered almonds, blanched
1/2 cup grated Parmesan cheese, plus more at the end
1 cup basil leaves
1/2 cup mint leaves
1/2 cup Italian parsley leaves
3/4 extra virgin olive oil
2 1/2 tbsp fresh lemon juice
1 tbsp lemon zest
Salt & pepper to taste
Combine all ingredients in food processor. Process until smooth.
Noodles
4 zucchinis, ends trimmed and run through spiralizer on medium (spaghetti noodle size)
Place noodles in a large bowl and set aside.
Shrimp
1 tbsp olive oil
1 tbsp Greek Seasoning
1 tsp lemon juice
1 tsp lemon zest
1 lb medium Shrimp, peeled and deveined
Marinated shrimp in large Ziploc bag in fridge with ingredients above for about an hour. Place shrimp on skewers (that have been soaked in water so they don't burn) and grilled until cooked through.
Toss noodles with 3/4-1 cup of the pesto (you won't use it all). Place noodles in individual bowls and top with grilled shrimp, a little bit of additional pesto and extra Parmesan cheese.