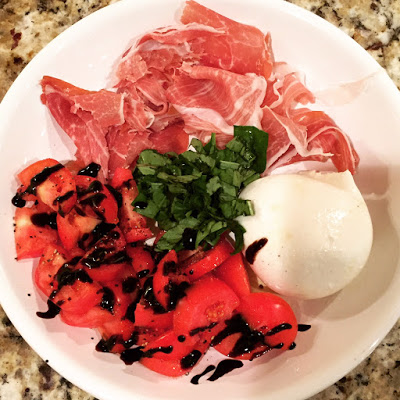 This super easy appetizer is delicious. Michelle and I ate it all over New York. It calls for Burrata which is Fresh Mozzarella with Cream. It is even creamier and more delicious than regular fresh mozzarella.
1 ball Burrata
1 cup of tomatoes (if using grape cut in half, if other sizes a medium dice)
1/4 cup fresh basil chopped
4 oz Prosciutto di Parma, cut into 1 inch pieces
2 tbsp olive oil
Balsamic Glaze
Salt & Pepper to Taste
In a bowl toss tomatoes with 1 tbsp of olive, some salt and some pepper. Let sit in refrigerator for 30 minutes or so. Place mozzarella, prosciutto, tomatoes and basil on a platter. Drizzle other tbsp of olive oil over mozzarella and drizzle balsamic glaze over tomatoes. Sprinkle salt and pepper over platter and serve immediately. Each bite should have a little bit of everything on it! You will love this easy appetizer!