I eat a salad almost everyday, whether it's for lunch or dinner, side dish or main dish. I don't only eat them because they are good for me. I really love them! I am constantly finding new ones to try or throwing together what I have on hand. With the Farmer's Markets open and all kinds of fresh veggies in season, these salads are great ones to try. Here are a couple of my new favorites.
In looking up recipes on Pinterest, I accidentally combined 2 of them while making up my list for the Farmer's Market. So I made a few tweaks to the recipes and came up with one fabulous one! This is the perfect light summer supper or lunch. It would probably also be great on endive leaves as an appetizer.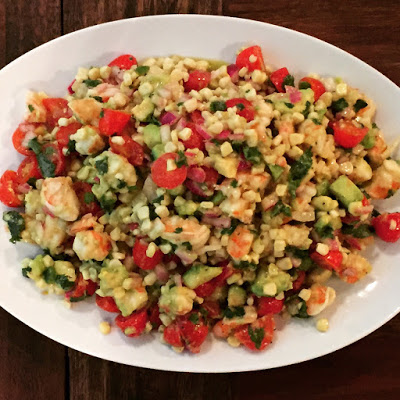 Shrimp & Corn Salad
3 ears corn, cooked and cut off the cob
1 pint grape tomatoes, cut in half
1/2 purple onion, finely diced
2 avocados, diced
2 tbsp cilantro, chopped
1/2 large jalapeño, seeds removed, finely diced
1 1/2 lb shrimp, cooked cooled and chopped
1/3 cup fresh squeezed lime juice
1/3 cup olive oil
Salt & Pepper to taste
In a bowl combine tomatoes, onion, cilantro, jalapeño, avocado, half of the lime juice, half of the olive oil and salt and pepper. Stir well and stick in the refrigerator for 30 minutes to 1 hour. Remove and add corn, shrimp and remaining olive oil and lime juice (and possible more salt and pepper). Stir again and put in the refrigerator for 15 more minutes.
I love chopped salads. The mint in this one makes it especially refreshing. This salad is a perfect side dish with grilled chicken or steak!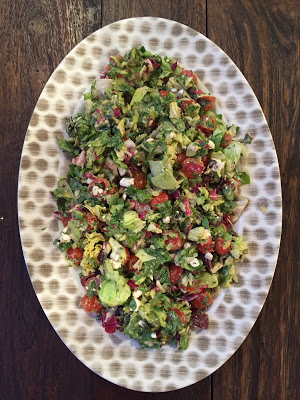 Chopped Salad
1 cup grape tomatoes, halved
1 cup green onions, diced
1/4 cup kalamata olives, diced
1 cup cucumbers, diced
3/4 cup Feta, crumbled
1 cup mint leaves, chopped
1 1/2 cup arugula, chopped
1 cup radicchio, chopped
Place all ingredients in a large bowl. Add some of the dressing from below (you won't use all of it). Toss well. Add ,more dressing if needed until salad is coated. Serve immediately. If you aren't eating all of the salad immediately, only dress the part you are so it won't be soggy.
Shallot Dressing
2 shallots
3 tbsp capers
3 tbsp dijon mustard
1/2 cup sherry vinegar
1 cup olive oil
Place all ingredients in blender to puree and combine.
Enjoy!