My cousin Jennie introduced me to this recipe. We had to make a few tweaks for me. Her recipe calls for goat cheese. If anyone knows me that is the one cheese I don't eat. Just not a big fan. But if you prefer that- by all means make it with that! Also, Jennie and I agreed that we need some more crunch. So we added pine nuts. Delicious!! Allen was super skeptical about this meal. He was pacing the floors back and forth, looking over my shoulder etc…. It was quite comical. He ended up loving it but admitting he was surprising that he did.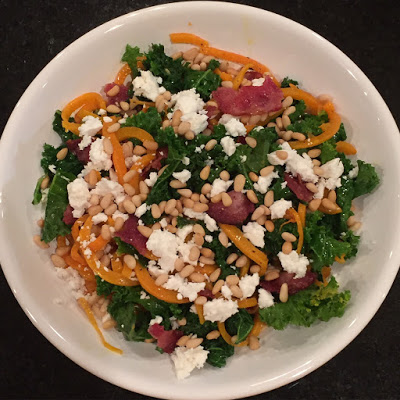 1 butternut squash, spiralized
1/2 tbsp olive oil
Salt & pepper, to taste
5 slices medium-thick cut bacon
4 cups of kale, torn into bite-sized pieces
2 garlic cloves, minced
Good Feta Cheese (block in water- not already crumbled)
Pine nuts, lightly toasted
Preheat oven to 400 degrees. In a large bowl toss butternut squash noodles with olive oil, salt and pepper. Place butternut squash on a large baking sheet and roast in oven 10-12 minutes. In a large sauté pan, cook basin slices until crispy. Remove bacon and place on paper towel lined plate. Crumble bacon. Remove 1-2 tablespoons of bacon grease from pan. Cook minced garlic in remaining bacon grease over medium heat for 2-3 minutes. Add kale and cook until wilted. Turn off heat and add bacon back to pan with kale and garlic. Now build your bowls. Put squash noodles in bowl. Then add kale/ bacon mixture. Crumble some (amount of your choice) feta over bowl and add about 1 1/2 tbsp pine nuts. Enjoy!!!