It can't say enough about this delicious side dish. It pairs perfectly with burgers, chicken or really any of your favorite entrees. It would also be great for a party because it is just as good at room temperature as it is hot! This is an Ina Garten recipe that I only had to change a bit. I had truffle oil at home so I used that instead of truffle butter and olive oil.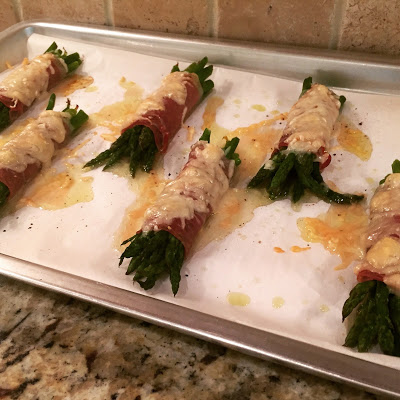 2 lbs asparagus, trimmed
6 oz prosciutto
1/2 cup gruyere cheese, shredded
2 tbsp truffle oil
salt & pepper, to taste
Preheat oven to 400. Blanche the asparagus in boiling water for 2 minutes. Plunge immediately into ice cold water. Let cool for two minutes and remove a lay on paper towels to dry completely. Take 6 or 7 stalks of asparagus and wrap one piece of prosciutto around the middle of it. Place on baking sheet lined with parchment paper (opening side down). Sprinkle gruyere cheese, salt and pepper over the bundles. Drizzle truffle oil over top. Bake until cheese is melted- about 12-15 minutes. Enjoy- This is a new favorite in our house!