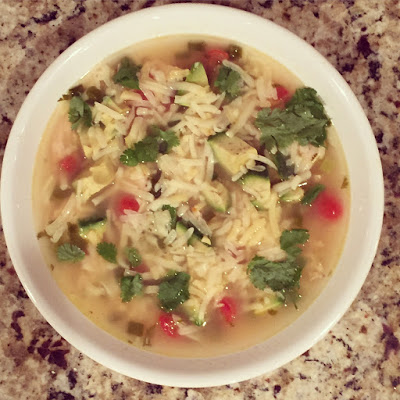 This soup has it all! It is comforting and refreshing. It is spicy and a tangy. It is healthy and delicious. Try it- you won't be sorry!
1 1/2 tbsp olive oil
1 cup green onions, minced
1 large jalapeño, diced with seeds removed
3 garlic cloves, minced
1 1/2 cups grape tomatoes, quartered
8 cups low-sodium chicken broth
1 tbsp cumin
3 cups chicken breast, cooked and shredded
Salt and pepper, to taste
1/3 cup cilantro, chopped
1/2 cup of fresh squeezed lime juice
2 avocados, cubed
monterey jack or pepperjack cheese, shredded
Heat olive oil over medium heat. Sauté green onions and jalapeños for 2 minutes or until soft. Add garlic and sauté for additional minute. Add chicken broth, tomatoes, cumin. salt, pepper and chicken to pot. Simmer for 15- 20 minutes. Add cilantro and lime juice. Cook for 5-10 more minutes. Pour into individual bowls and add avocado cubes and monterey jack or pepperjack cheese (also you can add sour cream and tortilla chips if you like!).