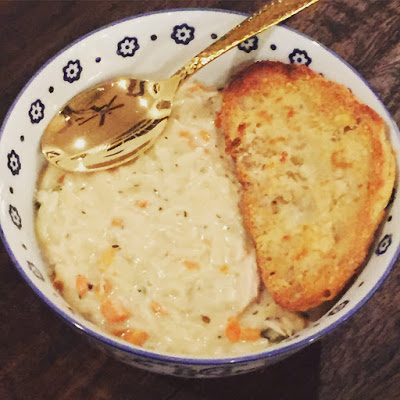 When we had a cold spell last week and decided to make up my own version of chicken soup. All three kids gobbled it up. We only had one bowl of leftovers!!
2 tbsp olive oil
1 container of Mirapoux
2 cloves of garlic, minced
3 cups cooked and shredded chicken breast
7-8 cups chicken broth
1tbsp thyme
1 tbsp oregano
Salt & Pepper to taste
4 tbsp butter
4 tbsp flour
3 cups of half & half
juice from 2 lemons
8 oz orzo, cooked
In a large dutch oven, heat olive oil over medium heat. Add Mirapoux and cook for 10-15 minutes or until onion has softened. Add garlic and cook for another 5 minutes. Add chicken, thyme, oregano, salt, pepper, and broth. Simmer for 20 minutes, stirring occasionally. Add lemon juice. In separate pot, melt butter and add flour to make a roux. Add half & half slowly stirring constantly. When thickened, add to soup. Add cooked orzo. Simmer to let all flavors combine. Serve with Parmesan Crostini.