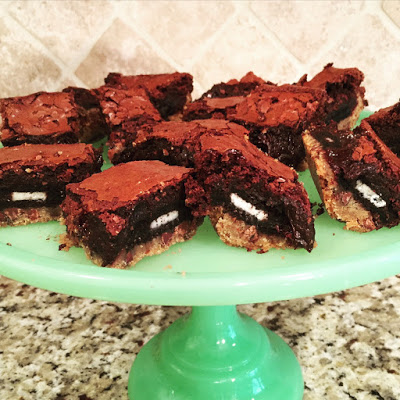 I have not blogged in almost 2 months! With the holidays, trips, kids and sickness I have just been entirely to busy. I am trying to get back into it with some yummy recipes that I tried over the holidays, including these!
I know it's the New Year and I am suppose to be being healthy and I am…. some of the time. Everything in moderation, right? I saw a picture of these brownies on Instagram and immediately started researching how to make them. There were all different varieties. These were the easiest!
One tube of raw cookie dough
One box brownie mix of choice- plus all ingredients that are required to make the brownie per box directions (probably egg, water, oil)
16 Oreo cookies
Preheat oven to 350. Mix up brownie mix in bowl per package directions and set aside. Line a 9×9 pan with foil and spray the foil with cooking spray. Press the cookie dough evenly into the pan in a thin layer. Place Oreos on top of cookie dough in evenly layer- no overlapping. 4 rows of 4 Oreos each. Pour brownie mix over Oreo layer. Bake for 35-45 minutes. You want the brownie layer done but you don't want to overcook the cook layer on bottom. Check brownie layer with toothpick. I like mine slight undercooked then they are extra gooey and delicious.